---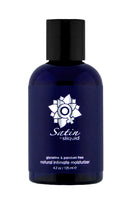 Sale
Naturals Satin is an Aloe Vera and Carrageenan infused, water-based intimate moisturizer. Satin is the first Sliquid product designed for daily use, not just during sexual activity.
Created for women who experience regular or periodic dryness due to menopause, medication, or any other reason, Satin will provide long lasting, natural comfort with only a few drops. A proprietary blend of natural moisturizers, including natural extracts of Carrageenan, Aloe Vera, and Vitamin E, creates a natural feeling moisturizer that emulates your body's own natural lubrication.
Sliquid Naturals Satin, like all Sliquid products, does not contain any parabens, DEA, or sulfates, and is always 100% vegan friendly.
Features & Benefits:
Aloe & Carrageenan infused water based formula
Always 100% Gluten free and Vegan friendly
Ideal for daily use or for intimate occasions
Glycerin free and paraben free
Hypoallergenic and non-toxic
Designed for long lasting, natural comfort
Perfect for daily use or during intercourse
Uniquely blended to emulate your body's own natural lubrication
pH balanced neutral
Ingredients:
Purified Water, Plant Cellulose (from Cotton), Carrageenan, Aloe Barbadensis (Aloe Vera), Natural Tocopherols (Vitamin E), Cyamopsis (Guar Conditioners), Potassium Sorbate, Citric Acid Personal lubricant and daily intimate moisturizer.
At Adult Provisions, we pride ourselves on our team of seasoned professionals who bring decades of experience in the fields of eCommerce, and logistics. Their collective expertise ensures that your journey with us is not only pleasurable but also secure and discreet. We understand the importance of maintaining your privacy, which is why we prioritize confidentiality in every aspect of our service.
commitment to excellence begins with our meticulously curated selection of adult toys. We handpick each item to ensure that only the highest quality products make it onto our platform. From classic favorites to cutting-edge innovations, we offer a diverse range that caters to every preference and desire.
But it doesn't stop there. We believe that shopping for adult products should be an enjoyable and hassle-free experience. That's why we have invested in cutting-edge eCommerce technology to provide you with a seamless and user-friendly browsing experience. Our intuitive interface makes it easy for you to find exactly what you're looking for, with detailed product descriptions and helpful customer reviews to guide your decision-making process.
Fast and discreet shipping is our promise to you. We understand that anticipation can be part of the excitement, so we work tirelessly to ensure your order arrives promptly and in discreet packaging. Your satisfaction is our priority, and we go above and beyond to exceed your expectations at every step.
When you shop with Adult Provisions, you can trust that your personal information is in safe hands. We employ stringent security measures to protect your data and ensure that your online transactions are fully secure. Your privacy is paramount to us, and we strive to create a safe and confidential environment where you can explore your desires with confidence.
Join us on this journey towards sexual fulfillment and discover a world of pleasure at Adult Provisions. Our commitment to quality, innovation, and customer satisfaction sets us apart as the leading destination for adult products. Experience the difference today and embrace a new level of sexual happiness with us.